The Daffodil Memories Series has a story all its own.
Back before the days of online access to vital records, my mother was a genealogy research junkie who had to do everything the hard way. This involved lots of letters, long distance calls, and cross country trips. Thanks to her tenacity and good record-keeping, I had the recent privilege of discovering I descend from a Revolutionary War soldier whose beard was reportedly sheared off by a British bullet.
Mom would have loved that story.
Mom wrote quite a few short memoirs of her own, but she delighted in learning about our family's history. Our ancestor's stories were our stories, and she always felt that our ancestors' memories were in some small way embedded in our DNA.
From her love of story came my love of storytelling. And from my love of storytelling came the book "Filling Mama's Shoes." I created the main character, Naomi Webber, with my mother in mind,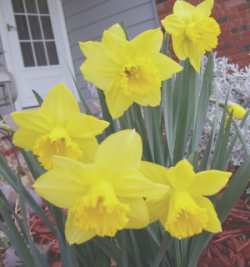 reflecting the contrast of her youth as she was impoverished by The Depression yet surrounded by the strength of family and friends. Naomi is a female character unlike anything found in today's fiction, but I believe Naomi's is a story worth telling. I spent a year researching Naomi's era to make the book historically accurate, and I initially wrote the story with a young reader in mind. However, something unexpected happened along the way. As my older beta readers reported back, I discovered the book triggered memories for them that had never been shared. Even though my dad had previously recorded many of his childhood memories, he recalled his best personal stories when prompted by Naomi's tale. The audience who enjoyed the book most was the over-70 crowd, and once I realized this, the book's purpose and audience transformed.
I revised the book to be a hybrid novella and memory journal for all to enjoy, but especially for those in the GI and Silent Generations. The book is filled with historical references and provides a light read for an individual or an easy story to be read aloud to others. Its mission is to provide an entertaining story that will prompt memories and help readers capture priceless family and personal histories. Memory journal prompts are provided in the back of the book and coincide with events in the story.
"Filling Mama's Shoes" is the first in what I plan to be a series of books and/or short stories that will follow the life of Naomi Webber and her family and friends. I am journaling her life's story so that readers can follow her through World War II, down Route 66, past the push and pull of raising teenagers in the '60s and '70s, into politics, and beyond.
Why daffodils?
Daffodils reflect the march through time that we find in our personal stories. They're hardy enough to endure trying conditions yet graceful enough to brighten any corner. They multiply rather quickly and adapt to new surroundings. I wanted Naomi's mother to leave behind something enduring and endearing. A daffodil was the perfect thing.
When the thought of sequels entered my mind, I knew those daffodils would play a part in each story. The series begins in present day where the reader finds Naomi's short term memory is failing but her long term memory is very much intact. Naomi begins to share with her great-granddaughter the history of her precious daffodils and how those flowers spread across the country as Naomi's life story unfolds.
The Memory Mission
I want to encourage people everywhere to record their stories, but I also want to make people aware of how therapeutic stories can be for those who are struggling with memory loss. I am not an expert on geriatric care, but I know a few things from my experience with my parents. My mother suffered from vascular dementia in her final years, and she enjoyed hearing me read to her. Before my father passed away he also enjoyed hearing stories, and when those stories sparked a memory, his energy level spiked, and my spirits soared with the entertaining memories he shared.
Memory loss is a natural part of life, but as natural as it may be, it is upsetting for everyone involved. It affects us and our loved ones emotionally, mentally, and physically. My book is just one small tool that can be utilized in a quest to capture family history and to reach out to people with memory issues. Many caring people are on a mission to help our elderly loved ones. This website and our sister Facebook group serve as resources for:
Family historians seeking tips and ideas, and
Elder caregivers seeking memory-jogging activities and geriatric care information
I welcome everyone to share their tips and suggestions, concerns and questions. And I wish you the best as you explore the stories that built you and your family.