Stories for Life
People across the country are inventing ways to help those with memory loss. One example is Stories for Life, which was created with the help of librarian Tysha Shay. Shay found that reading to her grandmother could trigger memories even though her grandmother suffered from Alzheimer's. This discovery inspired Shay and the Springfield-Greene County Library District in Springfield, Missouri, to develop an outreach program. Recognizing that learning is a lifelong journey, they take the library to the seniors in thier area. Lots of great ideas here!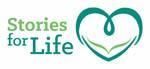 Understanding Alzheimer's
Alzheimer's Association also offers an excellent interactive tour of the brain to help us undersatnd the biology behind the disease.